Exotic Pets and Zoological Medicine Services
Our goal is to provide excellent, professional care of exotic pets and zoo animals. We have a dedicated staff of board certified veterinarians specializing in exotic animals, staff veterinarians, interns and fourth-year veterinary students.
Companion Exotic Animal Services
Hedgehogs

Ferrets

Rabbits

Guinea pigs

Chinchillas

Rats and other rodent species

Captive birds

Reptiles (turtles, tortoises, lizards and snakes)
The VHC Exotic and Zoo Animal Medicine service provides wellness exams, medicine and surgery services as well as emergency care for your companion exotic pets.
Zoological Medicine Services
We provide routine, specialty and emergency care to the 200+ animals at the Sunset Zoo in Manhattan, Kansas.
Training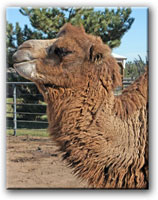 The mission of the Zoological Medicine Service is multi-faceted, including service, education, and research, but it starts with training. In addition to having the opportunity to receive training in exotic animal medicine the experience also gives them a competitive edge later on when job hunting. Dr. Carpenter illustrates this point relating, "A few years ago, a recent graduate excitedly called, saying that in three job interviews she had three job offers — all because she was the only one of the applicants that had clinical experience in exotic animal medicine. Clinic owners know that most clients having both domestic (dogs or cats) and exotic pets prefer to have "one-stop" service for their animals."
This client service is driving a lot of the growth in zoological medicine. Alternative pets are now a significant business for many veterinary hospitals. The VHC exotic medicine rotation also provides graduates a broader range of opportunities in non-domestic animal healthcare. Dr. Kevin Kelley, '03, of Richmond, Virginia is a prime example. Following graduation this last May, he had planned to work a year and then apply for an internship in zoological medicine, but all this changed when a "dream job" became available in San Francisco. "I'll start work in February at the Six Flags Marine Park," said Dr. Kelley. "My job at the Richmond Clinic, where I had a 40% exotic caseload, and my K-State education and mentoring helped me to take advantage of this great opportunity!"
The reputation of the KSU faculty and the clinical and teaching opportunities which this program provides, also attracts motivated, highly qualified individuals for the Internships/Residencies that the Zoological Medicine service offers. Dr. Siegel-Willott wanted to come here because "it's one of the best known programs around." "The work mix is great, with client-owned exotic pets, zoo animals, and wildlife cases challenging us everyday. It makes for a very exciting time!"
Since 2000, the Exotic Medicine Service has also had a successful Master's degree program that partners with the prestigious Conservation and Research Center (CRC) within the Smithsonian Institution's National Zoological Park in Front Royal, Virginia. Of the numerous yearly CVM applications, one is selected to spend their next two summers in Virginia. That means that each year two KSU CVM Master's students travel to Virginia to assist in conducting research studies on endangered species at the CRC.
In order for these students to spend their summers doing research, private funding and assistance is vital. Currently there is a scholarship fund, The Thuraline Keith Zoological Medicine Scholarship in place. This scholarship fund provides for a small percentage of the annual needs for each student. Currently, the expenses to cover one student are $6,000.00.
Clinical Care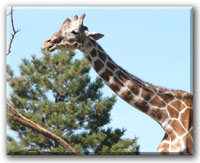 The service's primary emphasis to students is clinical care provided for exotic pets (birds, small mammals, reptiles, etc.), wildlife, and zoo animals. This focus is well grounded in on-site clinical work in both hospital and zoo settings.
Students especially seem to enjoy the zoo work because it gives them a chance to work on unique cases that include mega-vertebrates and many animals classified as rare or endangered. "Even though many times it may be a once-in-a-lifetime opportunity for students, exotic animal medicine and surgery necessitates the same planning, diagnostics and implementation as needed in any animal's care," said Dr. Carpenter. "It's a great learning experience for all our students."
Scott Shoemaker, Director of Manhattan's Sunset Zoo, is emphatic about describing his zoo's relationship with Dr. Carpenter and the Zoological Medicine Service, "It is a huge asset to the community. Our animals grow old and stay healthy because they are always provided high quality veterinary care. We couldn't provide near the medical care, even if we hired a staff veterinarian — nor would we even consider it!"
Another important area of clinical care undertaken by the service is that given to sick, orphaned or injured Kansas wildlife. Some 450 times a year such an animal is found and brought to the VHC by members of a network of "Good Samaritans" that include, state conservation officers, county sheriff officers, individuals and licensed rehabilitation volunteers. Expenses are underwritten by the Hospital with some contributions coming through the Wild Animal Medical Care Fund.
Research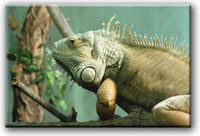 Besides the research responsibilities that include training for Master's students, the faculty does individual research with good opportunities currently in the area of pharmacokinetic studies. They are also involved in writing projects including clinical reports, book chapters and proceedings articles.
Dr. Carpenter is the author of over 160 publications on the medical aspects, captive management, and breeding of exotic animals and wildlife. He is also the co-author of the Exotic Animal Formulary (2000), and co-editor of Ferrets, Rabbits, and Rodents: Clinical Medicine and Surgery (second edition). The first edition of "Ferrets and Rabbits" was one of the most popular veterinary medicine books printed.